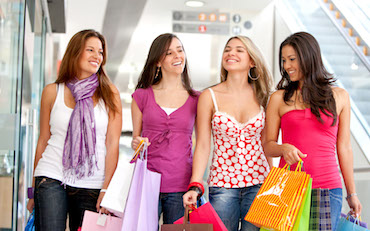 Ayna provides an engaging and effective platform to interact with shoppers. Galleria is a digital marketing platform for malls, leveraging online, mobile, digital signage and social media to engage shoppers before, during and after shopping trips.
The platforms and programs we build bring your properties into the digital marketing age–integrating fresh and relevant web content, email marketing, mobile web, mobile apps, sms text programs, digital signage and your social media presence on Facebook and Twitter into a single turnkey, easy-to-manage solution. We are experts at using digital media to drive foot traffic in the physical world of shopping.
Ayna's ready-to-deploy platform provides all the features to market and engage shoppers on several channels at once. Ayna's Galleria platform benefits include:
Quick to market with platform designed for mall, just add your own design to it and you are in business.
Generate additional revenues with advertising revenues from insitePeek network for malls and paid tenants.
Build loyalty by engaging shoppers online, mobile, SMS, social media, mailing lists and digital signage.
Engage shoppers with shopping content deployed on insitePeek network to boost sales.
Walk the talk with multi-language platform support and in-house translation services for English, Spanish, French and Arabic.
To learn how Ayna can help you deploy a scallable, revenue generating multi-channel platform for your mall, please contact Pre-sales staff for a tour and information on how Galleria can transform your shopper engagement.
Galleria combines everything you need to deploy and maintain a strong omni-channel for malls that consists of a website with complete tenant listing, two-way communication via social media and marketing tools.
Galleria lowers you total cost of ownership with free upgrades and updates. Our professional services customize your solution to meet your specific needs, and intergate it with existing backend system such as loyalty systems, customer service and communication modules.
Available Versions
Galleria SaaS cloud with Cloudflare acceleration using Railgun technology to achieves a 99.6% compression ratio, and protection from online threats that range from nuisances like comment spam and excessive bot crawling to malicious attacks like SQL injection and denial of service (DOS) attacks. We alco optimize your content with distributed CDN servers in 23 data centers around the world, and by using Anycast technology we route your visitors to the nearest data center, resulting in twice as fast loading of pages regardless of where they are located. SaaS customers receive worry free updates and upgrades with in our secure environment to protect customer data from unauthorized access.


Galleria perpetual gives you full control of your Galleria installation and can be configured to meet your specific needs including local integrations on private networks. This option is available for malls with in-house IT department that want to customize Galleria for their needs. Includes access to source code for maximum inetgration and cusomization. Malls seeking to deploy mall platforms, can license Galleria to deploy mall portals rapidly. Galleria is developed using the following technologies (PHP, MySQL, Smarty) and comes with a well documented and growing set of API calls to enable you to connect with 3rd party systems.
Platform Highlights
Omni-Channel platform for seamless cross channel marketing and selling of goods and services.
Full CMS with multi-mall, multi-tenant support.
Support for Social Media, Email and SMS marketing.
QR marketing and in-store reservation.
Mailchimp Email Marketing Integration.
One-Click Theme Switch for mall and tenants stores.
Multi-Tenant Management.
Directory & Wayfinding.
Open API for 2-way integration.
Digital Signage Integration.
Built-in shopping social network portal.
Unlimited Updates and Upgrades.
Email, Web & Phone Support options.
Plugin design for rapid development.
insitepeek is a shopping social network enabling shoppers to actively engage stores and brands on the path to purchase.
Galleria is integrated with insitepeek and can be used to manage your own advertising network, or join Ayna's advertising networks for malls in Latin America and Middle East.
We deliver your message only to those users whose self-defined interests match your products, and employ location-based services to allow users to find your products at retailers near where they are in real time.
Our shoppers are highly desired. They are opted-in, engaged users of digital media drawn to our sites from participating malls and mobile app for our unique content, access to deals and coupons.
The result is waste free advertising–engaging only the shoppers you want to reach, whose interests match your offerings, without having to pay for everyone else.
For more information about how we can bring best-in-class shopping center digital marketing to your properties, contact Mark Henry at +1.603.821.4567 (Latin America) or Jennifer Blanc at +961.5.951.403 (EMEA).
Take a peek at insitepeek and subscribe to our mailing lists for Galleria.